*tadam tadam (drum sound)* and this weekend tya was doing..................
something stupid that caused my pink macbook broke, i deleted a folder named "PRIVATE FOLDER" that i thought a trivialise folder than i shut down the macbook without sinn or worry, the next day when i woke up and started my day with starting my macbook. THE LOG IN WINDOW DOESN'T APPEAR. only a grey screen appear. I CANNOT LOG IN MY MAC!

i decided to RE-INSTALL my system. BUT THEN. when i was looking for my software cd, I CANT FIND IT ANYWHERE. i was looking for all over my room, under my bed, behind the wardrobe, under the table, behind the tv, at my bf's room, at my bf's basement (where i put my unnessesary things). BUT I DIDNT FIND IT AND I TOTALLY FORGET WHERE I PUT THEM.
i was so sad, so stress, so dont want to spent my money going to Hamburg to repair my Macbook at Gravis then pay a good euros for the reparation. I DONT WANT THAT.
than im trying to forget about my macbook. hoping in the next day, next week or maybe next month i'll find the lost cd.

than at friday, me, vira, fitra and wisnu... cooked Bakso (again!) for the dinner :D THIS TIME THE BAKSO IS SUCCESFUL! (not sucksessful like the last time we made).
at Saturday, i was trying to find my lost cd again with the help of my bf , for the third time i checked all over my room and my bf's room. BUT NO SIGNAL.
thennnnnnnnnnnnnnnn, me and my bf decided to go to Vira (again). this time we went to Weinachtsmarkt (xmas markt) BUT we dont know that Weinachtsmarkt is closing at 8. WE LATE. finally we went to Kai Cafe. having Latte Machiato and Espresso in the rainy night and had a long chat. UNTIL WE ARE ALL HUNGRY and dont want to spent 5 euro pro person to pay just a plate of Spagethi. We're going home. To Fitras.
We cooked Mie ayam

We saw horror movies till morning come. ("The Red shoes" is cool!)
The next day, which is Sunday, they went home, and............. im still busy with my macbook till night with no succeed, then me & fitra ordered pizza Joey and Haagen Dasz.. it was totaly made our day!!!!!!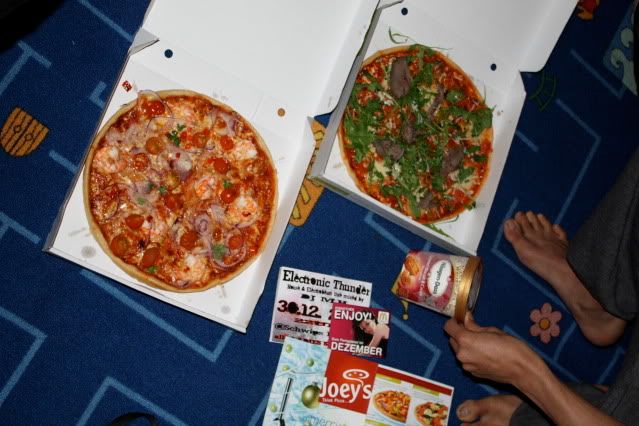 It suppossed to be posted at monday, but im too lazy toooooooooo publish it.. my mac doesnt sick anymore, i re installed all! i lost all the photos at my folder!