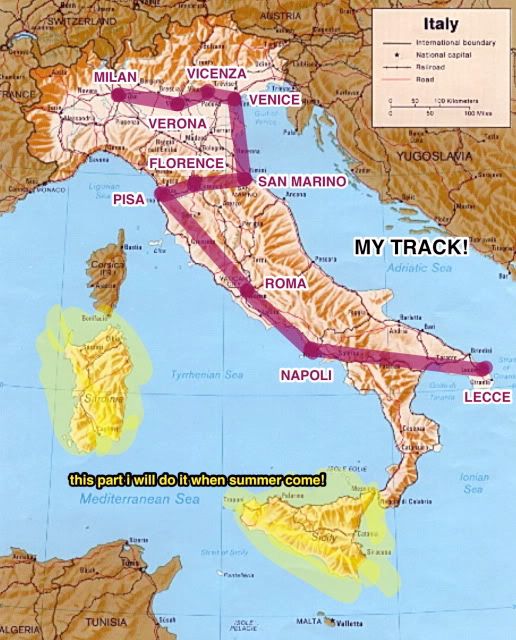 THE INTENTION OF MY TRIP
searching what the life called "pleasure" with all the tasty food in Italy, cultural and architectural visits, enjoying my "me" time after all the shits that happen in 2010, meet new friends (hopefully), brave girl by travelling with no one else but me
WHY ITALY
ask Elizabeth
hah! just kidding. I dont know it just come into my mind. To be frank, its inspired by Eli.
HOW LONG
18 days mama mia!
WHERE DO YOU SLEEP
most: Hostel, in some city: Couchsurfing
WHAT DO YOU FEEL RIGHT NOW
I feel so excited of my trip yet a lil bit worried about it. I dont travel so long before and alone!! My God, i think i just wanted to get out of Wismar when i booked the flight. Blame it on all the stress from exams (I failed one, but passed one from the 5 sem, so its no problem). Maybe when i come back, i will think differently about what life for. Or inspired to write a book (Hah! Always!). Or understand his feeling. Nevermind. But im so excited about it. Really.
WHAT THE PEOPLE THINK ABOUT YOUR TRIP
when i've booked my flight, my roommates reaction was like "WHAT!ARE YOU SERIOUS?ITS GONNA BE EXCITED" and some of them thought it is a bad idea to travel alone "IT WILL BE BORING" they said. But hey, who cares about what other think about you. You'll never know what can the world will be like. Im craving about it. Although its just Italia. And about my parents, they will kill me if they know i will travel alone. Its a secret for them.
AND THEN?
"BE CAREFULL" my friends said. Bring Pepperspray. Always put money and ID card with you. They even teach me how to protect your self from a man. They know i will ruin my trip because of my stupidness. I love my roommates.
WISH YOU LUCK?
wish me luck! :) and happy holiday anyone.